Philosopher, painter, theater-dancer, photographer and actress Cecilia Inverardi is an Italian artist. She was born in Milan in 1966, and has lived in London, Paris, Amsterdam and Brussels, before moving to Copenhagen in 2015. She has always moved to follow her inspiration and her passions. In London she was listening to the English sounds as a language and as the place of The Beatles!
In Paris she fed her passion for impressionist painting, and she wrote her thesis on the philosopher Simone Weil. In Amsterdam she was deeply in love with Van Gogh and performed at Danswerkplaats with her own dance performance "About Jordaan", a multimedia dancing promenade in the artistic neighbourhood of Amsterdam.
In Brussels, where she has lived the last ten years, she trained floor work technique, of the new contemporary dance style. She did her degree in painting at Ecole des arts d'Ixelles with the Maestro Quentin Smolders. She came to Copenhagen after working with "Odin Teatret".
Her paintings are inspired by colours and free shapes that start from colours. Landscapes from the Mediterranean area are inspired by a colour composition. She expresses a wild side with imagination and invention in the abstract painting. She has explored collage as a medium because she uses poor material sometimes recuperated from the street of from the daily life.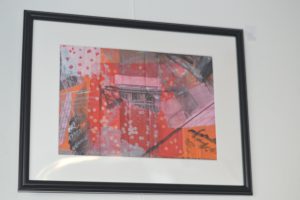 Collage on cardboard surface, painted with acrylics                               Size 30×40                                                                                                                 Hanging with frame and glass.                                                                       1050kr